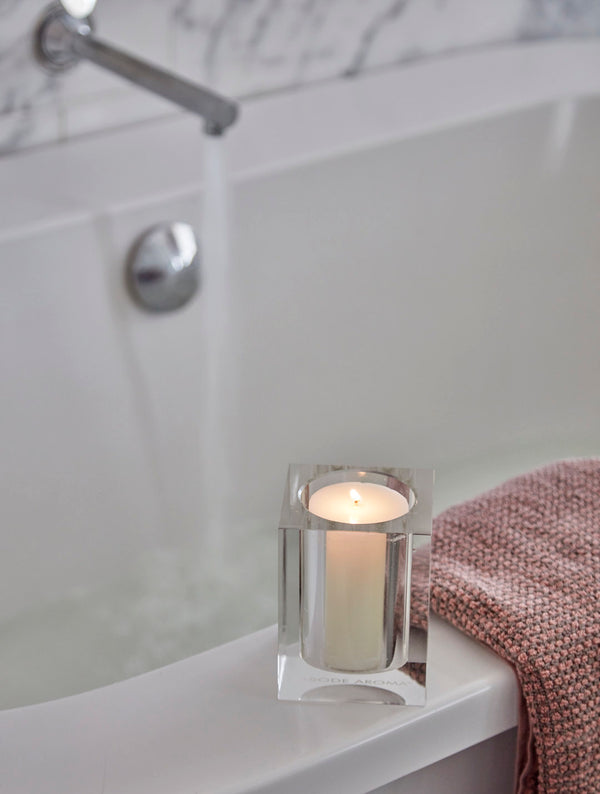 Intoxicatingly beautiful hyacinth, combines with a heady symphony of lilac, star jasmine and muguet to create a truly heart achingly bouquet of dreamy white flowers.
Our fragrances have been created exclusively for us by our European fragrance house. Use these scented pillar  refills to replace your finished candle in your bevelled crystal candle holder. Make sure you wash and rinse the holder  thoroughly before placing a new candle inside. If having difficult removing the remaining wax, place the candle holder in the freezer for 30 minutes and the wax should just slip out once removed.
Dimensions:
12cm x 6.5cm x 10.5cm 
Premium perfume candle refills are available as a twin pack (2 x 220g) that will burn for up to 30 hours each.
FRAGRANCE DESCRIPTION
Top Notes
Lilac

Heart/Middle Notes

Star Jasmine

Base Notes

Musk

candle safety
To get the most out of your candle and ensure every moment of your burning experience is pure pleasure, visit our candle safety page for tips and advice
Diffuser FAQs
We want you to love every scented moment of your room diffuser. Visit our Diffuser FAQ page to help put your mind at ease and ensure you get the most out of your diffuser experience.
Reviews