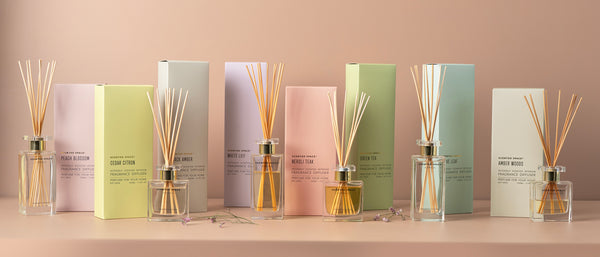 Reed Diffusers
For effortless and ever-exuding fragrance in the home, look no further than our range of intoxicating reed diffusers in our Scented Space, Apsley and Company and Abode Aroma ranges.
From our love and passion for authentic effective home perfumes comes a superior quality formulation of 90% fragrance oil, steeped in the highest possible percentage of natural essential oils and infused with a beautifully engineered fragrance. The result? Scents that grow irrevocably synonymous with your home.
No water, minimal ethanol and no artificial colouring are the pillars of our diffuser formulation, ensuring maximum fragrance-throw and lasting bliss. Expect a beautiful veil of fragrance over your haven for up to 6 months depending on the size of your room diffuser.
Like our candle ranges these design-driven, carefully crafted vessels are made to be recycled, revived and loved all over again as ornate decorative touches to revitalise a forgotten corner. We also provide a collection of room diffuser refills so you can continuously enjoy your favourite fragrances. Whatever you do, make them your own.
We abide by a no animal testing policy, to make masterpieces with a social conscience.