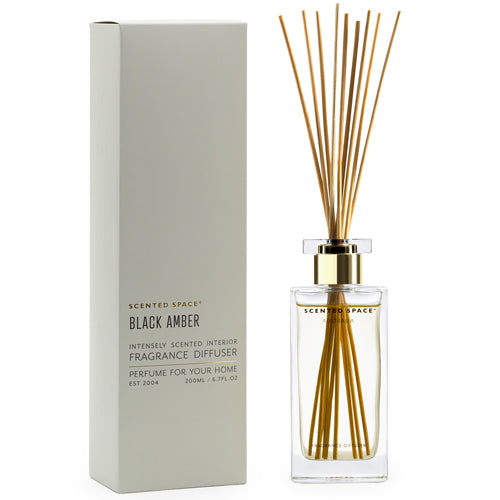 Inspired by the majesty and mystery of the Black Forest nature abounds with this enchanting fragrance. Springboard into woodsy adventures with a hypnotic creation of black amber, patchouli and musk fragrancing your space for up to 6 months.
Scented Space is the epitome of home decor, exuding elegance, style and creating a beautiful ambiance, in the form of stunning reed diffusers. Having a distinct scent for your home not only emanates sophistication, but for family members creates a welcoming familiarity, every time one enters the room. 

Distinguishing Scented Space, is our fragrances. We work with world renowned international perfumers, who create our perfumes to our particularity. We then delicately blend the perfume into our formulation; composed of 90% fragrance oil and 10% ethanol, derived naturally from the cassava plant.  Just like the perfume you spray on your wrist in the morning, your home is not complete unless it has its own scent – by Scented Space.
Dimensions:
Bottle - 6.5cm x 4.5cm x 16.5cm 
Box - 9cm x 6.5cm x 31cm
Our diffusers are made using a superior quality formulation of 90% fragrance oil, blended using the highest possible percentage of natural essential oils combined with carefully manufactured fragrance to create our signature, complex fragrances.
Containing no water, and a minimal amount of ethanol, which is derived from the cassava plant, ensures our diffusers long lasting effectiveness. Our diffusers are also totally free of artificial colouring and over time will naturally change colour with exposure to the air.
A no animal testing policy is applied to all our products.
Fragrance Description
Top NotesBergamot
Heart/Middle NotesRose
Base NotesAmber, Sandalwood
candle safety
To get the most out of your candle and ensure every moment of your burning experience is pure pleasure, visit our candle safety page for tips and advice
Reviews