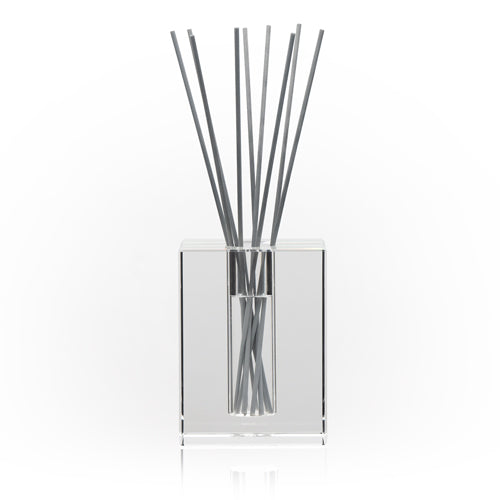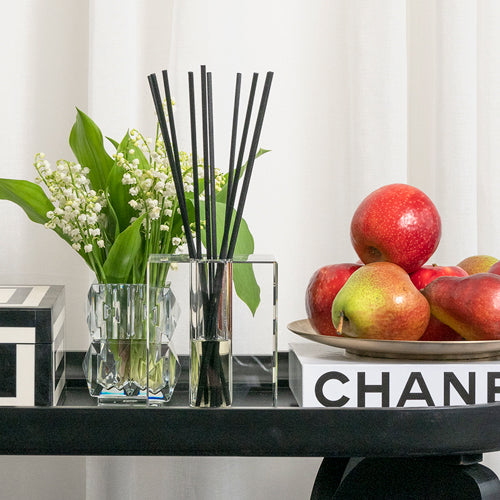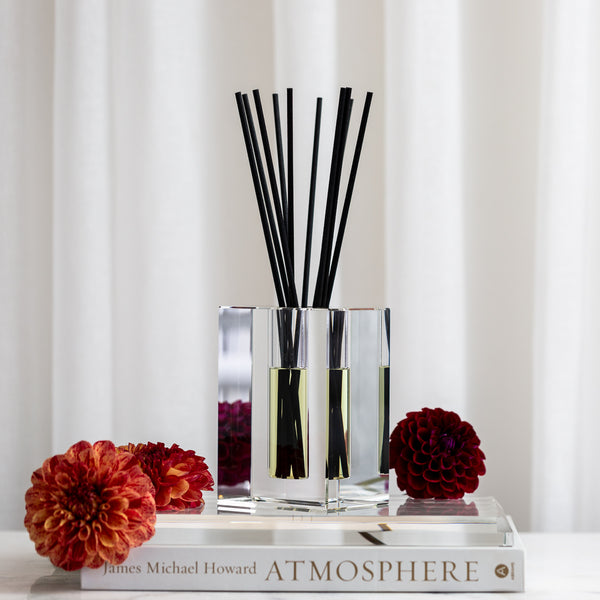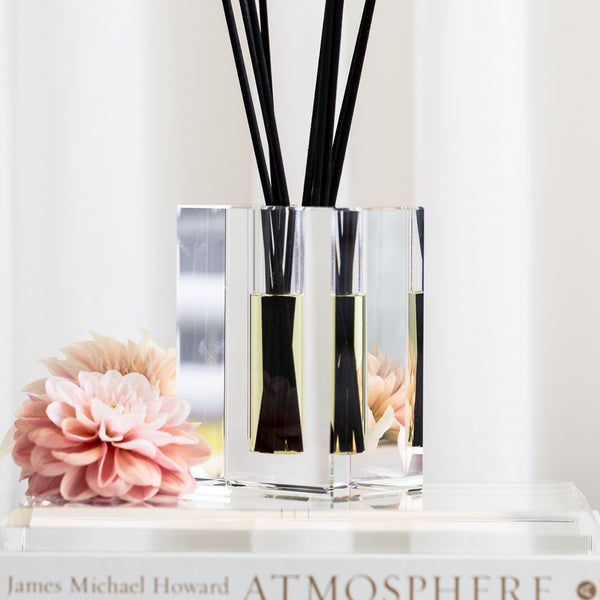 We invite you to experience fragrance diffusion in grand style with our Abode Aroma® Crystal Ingot Fragrance Diffuser. The exquisite hand-cut and polished crystal pieces are designed to be adored. Each one hand-crafted by an artisan master with a passion for creating an elegant fusion of classic and contemporary design. The beautiful vessel's quality is reflected in its impressive 2.3 kilogram weight.
The diffuser is accompanied by two 250ml bottles of fragrance oil with two sets of dispersion wicks (one black and one silver). Each bottle of fragrance will last up to six months.
We have packaged our Abode Aroma® Cybus collection with luxurious elegance to make it the perfect gifting option. Each product is presented in a crisp white handmade box embellished with a silver foil inscription and wrapped by a protective acetate cover.
Fresh drifts of white lily and posies of ylang ylang blooms are enlivened with luscious servings of peach, red apple and citrus leaves to form a liberating perfume that dances on a soft ozonic pillow of musk and summer jasmine.
We want your enjoyment/appreciation of this very special piece to continue so we have designed it to be reused with our diffuser refills.
Dimensions:
10.5cm x 7cm x14cm
Weight:
2.3kg
Size:

2 x 250ml
Apsley & Company's diffusers are made using a superior quality formulation of 90% fragrance oil, blended using the highest possible percentage of natural essential oils combined with carefully manufactured fragrance to create our signature, complex fragrances. 

Containing no water, and a minimal amount of ethanol, which is derived from the cassava plant, ensures our diffusers long lasting effectiveness. Our diffusers are also totally free of artificial colouring and over time will naturally change colour with exposure to the air. 
All elements of the diffuser and the packaging can be recycled, reused or re purposed.
A no animal testing policy is applied to all our products.
Fragrance Description
Top NotesLily
Heart/Middle NotesCitrus
Base NotesYlang Ylang
candle safety
To get the most out of your candle and ensure every moment of your burning experience is pure pleasure, visit our candle safety page for tips and advice
Diffuser FAQs
We want you to love every scented moment of your room diffuser. Visit our Diffuser FAQ page to help put your mind at ease and ensure you get the most out of your diffuser experience.
Reviews