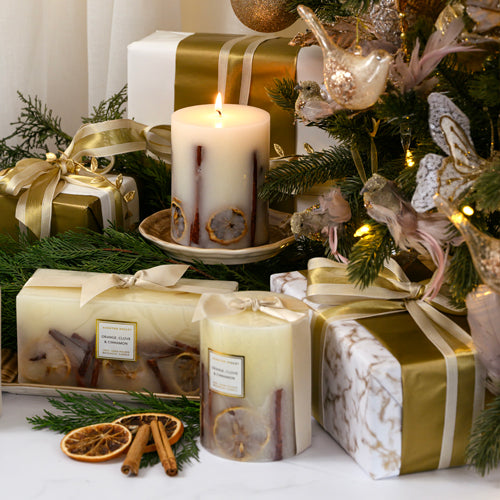 Would it be Christmas without a Botanical elements candle featuring in your room setting?  We think not, so have created a beautifully fragranced, elegant rectangular candle with hand placed botanical elements for you to enjoy.
An exotic fragrance blend of ylang ylang and lily with sparkling notes of citrus and the addition of traditional spices of clove and cinnamon has been created especially for this candle. Each candle is lovingly hand poured by our artisans before being carefully decorated with festive fruit and spices.  This artisan process ensures that the candle appeals to multiple senses by looking so engaging and smelling extraordinary. 
Each candle is presented with a beautiful champagne gold coloured ribbon and protected with a sheer sheath, making it gift ready for a special someone or a perfect treat for self!
 Dimensions:
26.7cm x 14.5cm 
Fragrance Description
Top NotesCitrus
Heart/Middle NotesCinnamon
Base NotesClove
candle safety
To get the most out of your candle and ensure every moment of your burning experience is pure pleasure, visit our candle safety page for tips and advice
Diffuser FAQs
We want you to love every scented moment of your room diffuser. Visit our Diffuser FAQ page to help put your mind at ease and ensure you get the most out of your diffuser experience.
Reviews